take a look below at our AS9100-D Certification for your ease of access.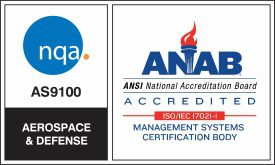 At White Rock Manufacturing solutions, we specialize in the supply of equipment, aircraft accessory supply, airport & airline operations, spares supply & maintenance, flight operations, cargo handling, & other organizations interested in certification. We believe that The aS9100-d certification is essential for our business to meet the necessary requirements for a quality management system. Our aim is to consistently provide products that conform to our partners & applicable statutory & regulatory requirements & to enhance customer satisfaction through the effective application of our system, including processes for continual improvement of the system.
An increasing number of major aerospace contractors now require the use of AS9100 by their supply chain, which is propelling its use throughout the industry.  By achieving AS9100 certification, we provide a visible commitment to our partners, which increases their confidence in our company & our product or service.